October 24, 2016
Kimberly Bryant worked in medicine and technology for more than two decades and observed so little advancement in diversity that in 2011, she launched Black Girls Code, a nonprofit organization committed to educating girls of color within STEM fields.
Bryant's work with BGC has already introduced thousands of nonwhite girls between the ages of 7 and 17 to computer science-based concepts through workshops, mentorship programs, and outreach initiatives—and she's committed to reaching one million kids by the year 2020. This ambitious goal is a crucial response to the lack of racial and gender parity in the tech sector: Fewer than one in 10 people in tech are nonwhite women, and within that grim statistic, black women are the least represented by an enormous margin. Bryant is working hard to change this disparity by pouring tremendous effort into Black Girls Code.
Complex sat down with the tech entrepreneur and diversity activist to discuss how to encourage and support girls of color as they encounter STEM-related interests, companies that claim they can't hire or maintain diverse staff members, and how BGC teaches new generations of girls that they are, as Bryant puts it, "the creators of tomorrow."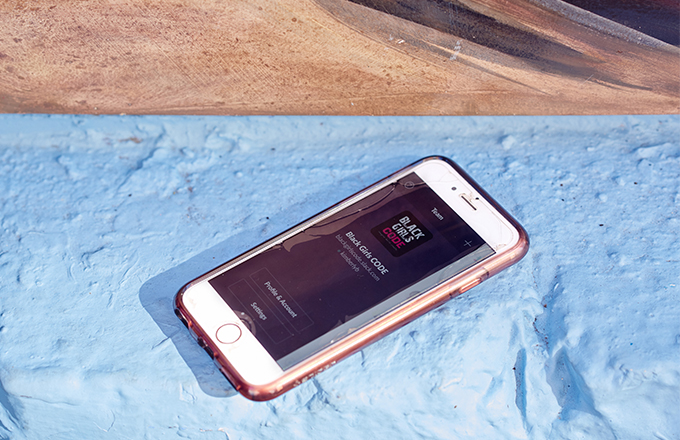 Photography by Maria del Rio
How did Black Girls Code get started, and how did you set that idea in motion?
BCG came into being from my seeing a need in the marketplace from two different perspectives. I was looking to leave the corporate job that I held for 20-plus years in the biotech and pharmaceutical fields. My company was going through a buyout, which was an opportunity for me to take advantage of that and a way to leap out there and do something on my own. I was really burned out by the corporate grind, but I still loved what I was doing on the healthcare and biotech side. I wanted to still do the work I loved—helping people—as I started my own company. I was looking to start a startup, but didn't have a specific idea in mind. I wanted to do something tech-enabled around solving critical healthcare problems. I was doing a lot of networking in the Valley, and I found that it was not a very diverse environment and most of the conferences and meetup events I went to, there weren't many women or people of color in those rooms.
At the same time, my daughter was really getting into gaming. When I was looking to find opportunities for her to learn about technology and to learn how to build something on her computer, the summer camps, and experiences I found for her, looked very similar to those meetups I was attending—full of white boys, with a few girls here and there, and almost no students of color. I was surprised: When I went off to college and then first started my career, I was seeing almost the exact same thing I had experienced for my daughter. Thirty years later, her class looked almost exactly the same as my freshman class. It was kind of horrifying! Like, oh my god, this can't be happening. It was very difficult.
For me, as a woman in one of the less diverse fields—electrical engineering, which is what I studied in college—it was hard to persist and really build a career. Some of the things I experienced were really scary, and they weren't experiences that I wanted for my daughter. BGC was borne of that…well, I can't describe it as anything but that horror: that my daughter would have to go through some of the things I went through while building my career. I wanted her to have an easier and more enjoyable time doing the thing that she loves. My quest to create it, and to find this community of little black and brown girls that are geeky, very into gaming, like to spend time on the computer, and are doing robotics, so that she can have a tribe to help make her journey more enjoyable than the one I had.
What are some of the most critical differences when it comes to how you hope your daughter's generation is treated in their professional field, and what are some of the assets and improvements that are most necessary?
I'll sum it up in a very real way: I want them to be given the benefit of the doubt. What I mean by that is, I feel very strongly that being a woman in technology and engineering, many times in my career and even in my very first week of college, I was not given the benefit of the doubt that I belonged in those rooms, even though I had attended one of the top high schools in my city and been an honor roll student from the time I started school and aced my AP classes. None of that followed me into the classroom when I started at Vanderbilt University.
Some of the perceptions from my professors were that I was less than, or that I wouldn't be able to compete, or wouldn't be able to meet the same bar as my peers. I don't want that for my daughter or for any of the girls who come into our program. I want their merits and their natural abilities to speak for themselves, and for them to be able to succeed—and/or fail, if they do!—on their own merits without any preconceived expectations that girls don't like technology, or girls can't do technology or become founders of tech innovation. I want them to have that benefit of the doubt that they have the same skills, access, and opportunities as any other person.
***Click HERE to read on more on Complex.com***
Leave A Reply